This cute and simple 3D Reindeer Christmas Card Craft is perfect for any lesson or event!
Kids love making things which is why making a 3D Reindeer Christmas Card Craft is such a great activity for ESL/EFL English lessons. At our English school in Japan, Step by Step Eikaiwa, we especially love crafts that are cheap, easy, and can be made in ten minutes or less. For our upcoming Christmas lessons, we found a great idea for a reindeer Christmas card from Easy Peasy and Fun, and added a little twist. We decided to make them 3D, boosting the fun and cute factor.

Since we can prepare and make this 3D Reindeer Christmas Card Craft quickly and easily, it gives us the freedom to do a few other things in our Christmas lessons. In addition to making these cards, we'll sing some Christmas songs, make a reindeer Christmas treat, and even study some Christmas vocabulary. There's a great set of Christmas cards, worksheets, and games we recommend at www.free-flashcards-download.com.
If you're looking for additional interactive games and activities to teach Christmas lessons online or in the classroom, don't miss our list of 7 Free Interactive Christmas Games for Online Lessons.
3D Reindeer Christmas Card Craft Supplies List
Construction paper for the background (we like green on white)
*You can optionally print out the back of the card (PDF Download)

Brown construction paper (for the head)

Yellow or orange construction paper (for the antlers)

White dot stickers (for snow)
Googly eyes, printed eyes, or black marker

Double-sided tape dispenser

Colored puff ball (red if you make Rudolph)
How to Make the 3D Reindeer Christmas Card Craft
You probably already have the materials in your classroom or house. Once you have everything ready to go, follow the steps below to make your own super cute 3D Reindeer Christmas Card Craft.
Step 1: Write the message on the back of the Christmas card
You can print out our template (PDF download) for this 3D Reindeer Christmas Card Craft or get creative and make your own design by hand. Just remember that this should be completed before making the 3D reindeer since it will be hard to write on the back after the head is attached. We like to tape green paper to white paper for a stronger card.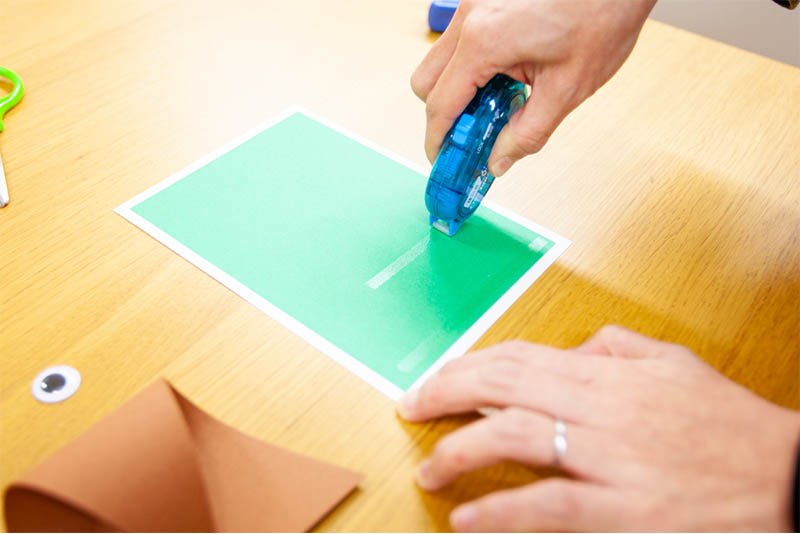 Step 2: Make the reindeer head and attach it to the card
The reindeer head is made by stapling the top of the dark brown triangle to the base. After that, add double-sided tape to the card and attach the reindeer head. (You can use glue if you want, but we like double-sided tape because it's clean, fast, and easy.
Step 3: Add the antlers and snow to the card
Cut long strips from the yellow paper and use double-sided tape to attach it to the card behind the reindeer head. You can use white stickers to add snow in the background.
Step 4: Add the eyes and nose
Now it's time to add the eyes. You can use small googly eyes, printed and cut eyes, or draw eyes on with a marker. Just remember that the eyes are the most important part. Without them, you'll have no-eye-deer what it is!
Finally, add the nose with double-sided tape or glue.
This 3D Reindeer Christmas Card Craft will fill your events with holiday cheer
Be sure to get creative when making this 3D reindeer Christmas card craft. We like to make them together with a reindeer marshmallow snack as we sing some Christmas songs, especially songs about that famous red-nosed reindeer!
After you make a 3D Reindeer Card, check out these other free Christmas crafts, games, and resources!

Try this year's hottest winter gift craft: a Custom Photo Snow Globe!
Get ready for an all new kind of winter and holiday craft with our 4 Free Custom Photo Snow Globe Templates! Just download the PDFs, cut, color, decorate, and then slide them into our Snow Globes for a complete mess-free, easy, craft which doubles as an awesome gift!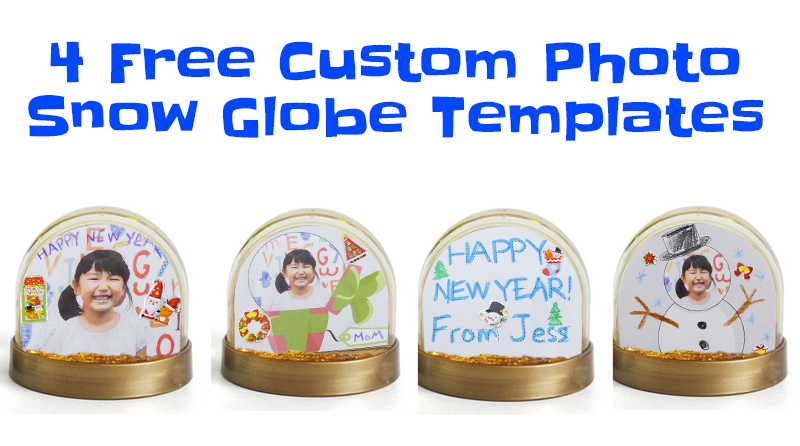 Need printable Christmas worksheets, flashcards, or a fun poster?
What do you want for Christmas? Maybe you should make a present blaster and get toys!